Boracay is still gorgeous with its white sand beaches, stunning sunsets, and superb internet connection (I need this for work) but my disenchantment stems from what I see is an unsustainable growth in the tourism sector. The last time I was here, I was that b*tch who complained about everything - it's too crowded, people don't care about their trash, the traffic in this tiny island, and exorbitant prices at least for a backpacker.
I didn't realize that staying in the right place would somehow change my mind.
I reluctantly included this stop in my Visayas trip to take a friend around the island. While walking to Mt. Luho Viewpoint, I spotted this hostel right by the corner of the road. The place looked laid-back, with its pool table, hammocks, and a bamboo bridge between room areas
. Since I needed a place to stay for the night, I went ahead and got myself a bed in the dorm room.
"Some places make you feel at home and Boracay right now just doesn't feel like one,"
I wrote three days ago.
Funny how this changed after a few days.
I spent the past few days like this: going for a walk or a quick swim early in the morning, walking back to the hostel for breakfast (they serve free breakfast here), working until late in the afternoon, getting a few drinks during happy hour, catching the sunset (if I could), and either going out until late or hitting the sack early.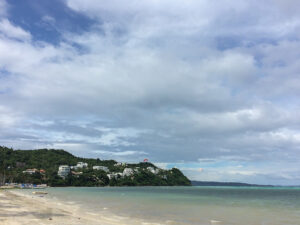 Kitesurfing season starts from November until March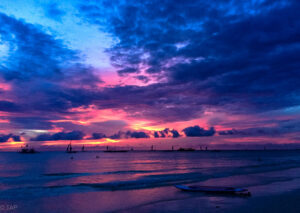 White Beach still has one of the best sunset views
Giving yourself the chance to change your mind opens the door to all the wonderful possibilities.
Jeepney Hostel just makes it easy to lose track of time. I could unknowingly spend a month here if I'm not too careful. The dorm room is perfect for backpackers, the staff is friendly, and the ambiance is ideal for working, chilling, meeting fellow travellers, or enjoying some quiet time by yourself. It's located right in front of Bulabog beach so I'm a few steps away from kite surfers doing their aerial tricks. Mostly, I prefer just walking on this quieter (and windier) side of the island.
Boracay can be as lovely, loud, expensive, annoying, or relaxing <insert adjective of choice here> as you want it to be. It all depends on how you want to see it.
If your home is a reflection of yourself, then Jeepney Hostel is my home in Boracay.

**This is NOT a sponsored post.
For reservations, visit Jeepney Hostel's website.